Agent Profile
Elizabeth Douthit
Licensed in Connecticut
Greenwich Office
Tel: (203) 869-8100
Cell: (203) 962-3424

Diamond Award
Charman's Council
Top Sale of 2015

Elizabeth Douthit has been a resident of Greenwich, Connecticut for 35 years and has been active in the Greenwich, CT and Watch Hill, RI real estate markets for more than 28 years. Her experience in Residential Sales runs the gamut from Prestigious Properties (she marketed the record-setting sale of a $17 million Conyers Farm estate) to modest in-town homes and multi-year rentals. Elizabeth has handled the sales of waterfront properties on Field Point Circle in Greenwich and managed the largest sale of ocean-view properties in Watch Hill and Greenwich in 2015. She is also highly versed in all aspects of the Relocation process and Residential Appraisals.
Elizabeth handles premium estates for Halstead Property real estate firm in Greenwich featuring personalized service to help with the instant decisions which can make or break home buying or selling negotiations.
Active in community affairs, Elizabeth has been a member of the Greenwich PTA and served as Chairperson of Horticulture for the Greenwich Garden Club after previously serving as Chair of its Education Outreach Program. She is also an active member of The Lyme Disease Task Force head-quartered in Greenwich. In Rhode Island, Elizabeth is a founding member and former Board member of the Watch Hill Lighthouse Keepers Association. She has also served on the board of The Misquamicut Club.
Elizabeth's daughter graduated from Greenwich High School and Davidson College; her on graduated from Greenwich Country Day and Brunswick Academy. He also graduated from Davidson College.
Born in Ireland, Elizabeth attended the University of Southampton in England. She is a member of the Greenwich Board of Realtors, Connecticut Multiple Listing Service, and the Rhode Island Board of Realtors.
Halstead Connecticut, LLC
The following are selected closed transactions in which Elizabeth Douthit represented the buyer, the seller, or both:
SINGLE FAMILY HOMES
27 Tait Road
73 North Street
213 Round Hill Road
24 Khakum Wood Road
24 Londonderry Drive
8 Park Avenue
11 Wyngate Road
16 Round Hill Road
263 Overlook Drive
37 Skyridge Road
43 Overlook Drive
2 Mountain Laurel Drive
74 Porchuck Road
19 Lower Cross Road
54 Rock Maple Road
22 S Stanwich Road
TOWNHOUSES
1 Old Church Road, #2
37 Greenwich Hills Drive
COOPERATIVES AND CONDOMINIUMS
Kitchen Of The Week - 73 North St. Greenwich
This magnificent land marked 1855 Federal home in Greenwich, Connecticut has been chosen as Halstead Property's Kitchen of the Week. Renovated from top to bottom, the 6,000 square foot home boasts a spectacular modern chef's kitchen finished with industrial design-details. At its center, an oversized custom-built island, provides plenty of...
Tuesday, May 10, 2016
Breaking Sales Records In Greenwich, CT
Halstead Property is starting off 2015 with an impressive deal in Greenwich, Connecticut. Last Thursday, 25 Pilot Rock Lane in Greenwich's prestigious Riverside neighborhood closed at $19 million with Halstead Property representing both the seller and buyer in the transaction. Hailing from our Greenwich office, Elizabeth Douthit was the...
Friday, March 6, 2015
Sneak Peek Inside 280 Round Hill Road - Greenwich,  Connecticut
This property is now closed or no longer available. Take a sneak peek at this property and if you are interested in something comparable, please reach out to Elizabeth Douthit, Licensed in Connecticut Tel: (203) 869-8100 - Cell: (203) 962-3424 edouthit@halstead.com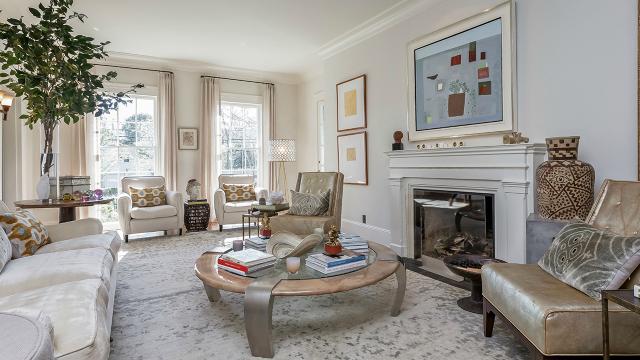 Sneak Peek Inside 73 North Street - Greenwich,  Connecticut
This property is now closed or no longer available. Take a sneak peek at this property and if you are interested in something comparable, please reach out to: Elizabeth Douthit, Licensed in Connecticut Tel: (203) 869-8100 - Cell: (203) 962-3424 edouthit@halstead.com
Agent Profile