Agent Profile
Karen Stone
Licensed Associate Real Estate Broker
West Side Office
Tel: (212) 381-3323
Cell: (917) 858-1261

My Profile:
Karen Stone is the kind of real estate professional that clients seek out because of the exceptional level of service she provides. With her combined passion for New York City and its dynamic real estate market, she is one of Manhattan's most respected and accomplished brokers.
Karen has established herself as a hybrid agent, representing all parties and all sides of any transaction, from renter to landlord, buyer to seller, and investor. Whether it's her proven sales approach, effective marketing campaigns, or utilizing her extensive network, Karen leaves no STONE unturned. With a video blog on YouTube, solid social media presence, and drive to learn the latest and greatest techniques in systems and processes, Karen does what's needed to successfully lease, sell, or help clients buy their home. With a background in marketing and design, Karen manages a portfolio of over 150 rental units on the Upper East Side where she works with the owners on the acquisition, unit mix, floorplans, design, staging, marketing and leasing.
Karen is also very dedicated to professional development, regularly networking with agents from all over the world through Leading Real Estate Companies of the World, Luxury Portfolio and Tom Ferry Coaching to learn more about their markets and best practices for business.
Originally from Southern California, Karen studied marketing and advertising at Indiana University. Before her start in real estate, she coordinated branding strategies for Disney and Nickelodeon in their consumer products divisions.
In her spare time, Karen is the former president of the Indiana University Alumni Association's New York Chapter. She often visits her alma mater to host seminars to graduating students about moving to New York. She is also the President of Business Network International Chapter 24, giving her access to dozens of professionals – from nutritionists to chiropractors to attorneys – that she is always glad to recommend. Karen also owns an apartment on the Upper East Side and is the Vice President of her co-op board.
Halstead Manhattan, LLC
201 East 71st Street #2G
Upper East Side, NYC
1 of 6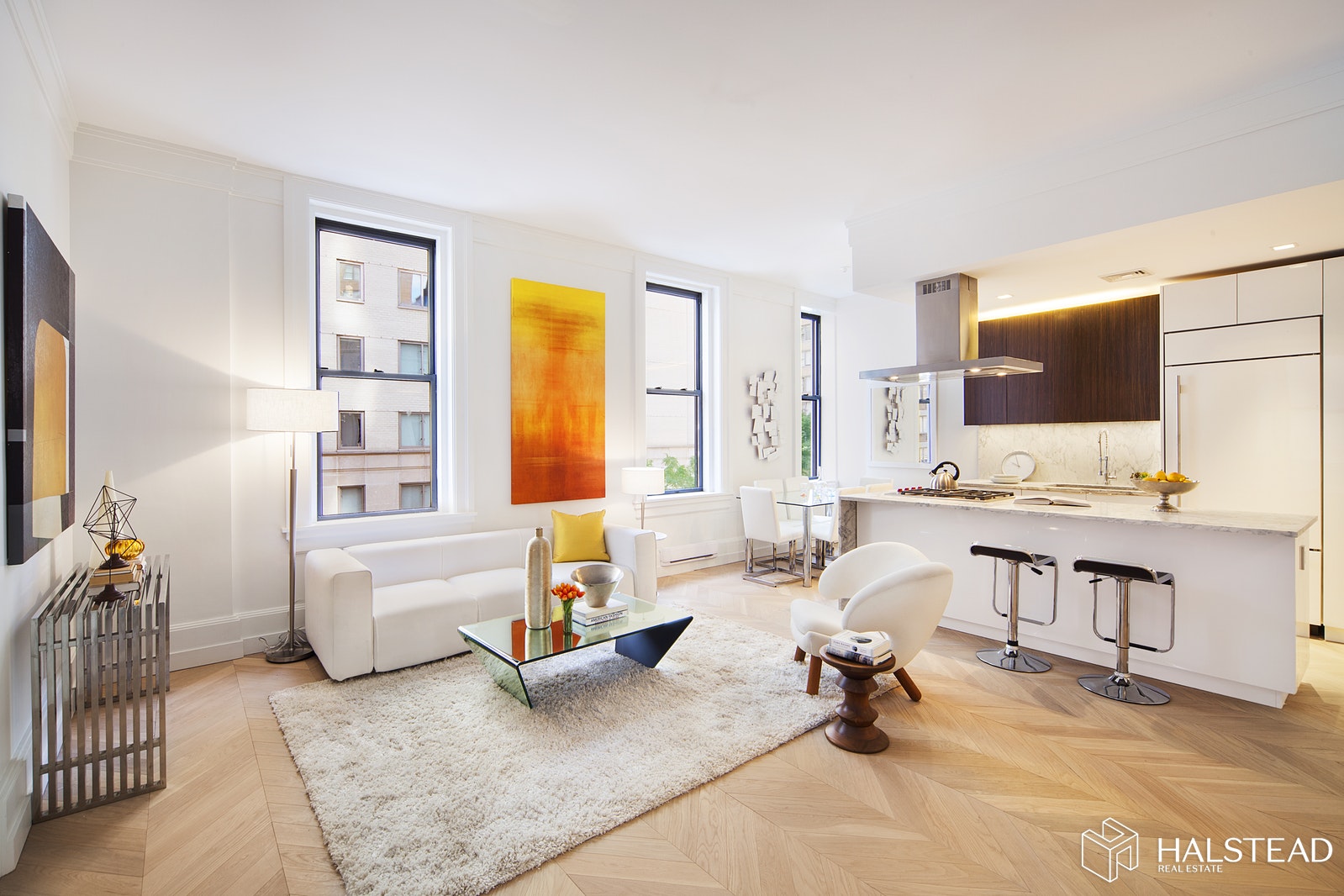 $12,000
The following are selected closed transactions in which Karen Stone represented the buyer, the seller, or both:
COOPERATIVES AND CONDOMINIUMS
320 West 83rd Street 3a
320 West 84th Street 6d
330 Third Ave 12d
5 Tudor City Apt 728
166 West 76th St 5a
500 East 83rd St 5f
185 Park Row 5a
240 East 76th St 12h
401 East 84th St 6a
500 East 83rd St 7a
106 East 91st Street 3i
170 East 87th Street 3wa
206 East 90th Street 1e
340 East 80th St 5a
415 East 85th St 4e
151 East 83rd Street 2a
100 Overlook Terrace Apt. 413
160 East 91st Street 3i
204 East 90th Street 1w
59 West 71st Street 7c
240 East 76th Street 6g
330 Third Ave. 14b
415 East 85th Street 5j
1810 Third Ave A3c
404 East 76th Street 18b
415 East 85th Street 7cd
44 West 62nd Street 6e
245 East 93rd St 27j
435 East 77th Street 10e
415 East 85th St 7ab
435 East 77th Street 10e
500 East 83rd 10c
500 East 83rd St 3l
51 West 131st Street B3
174 West 76th St Apt. 4
309 East 87th St 2g
579 West 215th St 3e
60 East 9th St Apt. 514
160 East 91st Street 7h
230 East 71st Street 3e
309 East 87th St 2g
320 East 46th Street 28a
500 East 83rd Street 2e
500 East 83rd Street 3m
131 West 85th Street 2b
150 Hawthorne 3c
264 W. 22nd Street Apt. 11
415 East 85th Street 5j
167 East 61st Street 14b
340 East 80th Street 19l
400 East 67th Street 7a
115 West 96th St Apt. 9
166 West 76th Street Apt 5a
353 East 72nd Street 34b
60 West 68th Street Apt 4c
336 East 77th Street #1
446 East 86th Street Apt 9b
166 East 92nd Street Apt 1d
303 West 66th Street Apt 15cw
331 West 76th Street Apt 4a
88 Morningside Avenue Apt 6h
244 East 60th Street Apt 2c
446 East 86th Street #9C
517 East 77th Street #4D
RENTALS
350 Central Park West Apt. 16i
410 East 88th Street Apt. 3b
410 East 88th Street Apt. 4a
410 East 88th Street Apt. 4b
218 East 74th Street Apt. 2w
236 East 74th Street Apt. 3r
410 East 88th Street Apt.1B
423 East 82nd Street Apt. 3a
423 East 82nd Street Apt. 3b
410 East 88th Street Apt. 2c
423 East 82nd Street Apt. 2d
423 East 82nd Street Apt. A
218 East 74th Street Apt. 2e
223 East 74th Street Apt. 4b
410 East 88th Street Apt. C
423 East 82nd Street Apt. C
117 Sullivan Street Apt. 1b
210 West 96th Street Apt. 5
215 East 95th Street Apt. 15j
218 East 74th Street Apt. 2r
173 Bleecker St Apt. 7
223 E 74th Street Apt. 4c
223 East 74th Street Apt. 2c
223 East 74th Street Apt. 3c
301 East 79th St Apt. 31d
217 Thompson St Apt. 6
425 Riverside Drive Apt. 10h
547 East 12th St Apt. 4c
423 East 82nd St. Apt. 3d
173 Bleecker St. Apt. 1
410 East 88th St. Apt. 3a
10 City Point Apt. 22s
201 East 71 St. Apt. 3b
201 East 71 St. Apt. 2c
175 Bleecker St Apt. 17
410 East 88th Street Apt. 4c
410 East 88th Street Apt. 2b
410 East 88th Street Apt. 2c
410 East 88th Street Apt. 3b
410 East 88th Street Apt. 4be
333 East 34th St Apt. 6g
410 East 88th Street Apt. 1c
410 East 88th Street Apt. 2a
332 East 11th Street Apt. 11
423 East 82nd Street Apt. 4b
423 East 82nd Street Apt. 2b
423 East 82nd Street Apt. 3b
423 East 82nd Street Apt. 3d
423 East 82nd Street Apt. B
423 East 82nd Street Apt. 1d
200 East 72nd Street Apt. 33c
605 West 42nd Street Apt. 27a
228 East 10th Street Apt. 6
237 East 10th Street Apt. 4b
126 West 25th St Apt. 3f
342 East 67th Street Apt. 14a
423 East 82nd Street Apt. 1b
423 East 82nd Street Apt. 1c
201 East 71st Street Apt. 2c
201 East 71st Street Apt. 3b
423 East 82nd Street Apt. 3a
423 East 82nd Street Apt. C
139 West 82nd Street Apt. 7e
201 East 71st Street Apt. 3k
311 East 72nd St Apt. 14c
313 East 92nd Street Apt. 5e
75 West End Ave Apt. P20a
79 West 12th Street Apt. 9g
147 West 79th Street Apt. 5c
300 West 21st Street Apt. 63
284 West End Ave Apt. 2a
412 West 110th Street Apt. 4
1619 Third Ave Apt. 2b
165 East 66th Street Apt. 10k
55 West 25th St Apt. 17j
201 East 71st Street Apt. 2k
201 East 71st Street Apt. 2b
201 East 71st Street Apt. 2c
201 East 71st Street Apt. 2g
201 East 71st Street Apt. 3b
201 East 71st Street Apt. 3c
201 East 71st Street Apt. 4k
201 East 71st Street Apt. 3a
201 East 71st Street Apt. 3g
201 East 71st Street Apt. 3k
201 East 71st Street Apt. 4b
100 West 26th Street Apt. 19g
200 East 61st Street Apt. 5c
325 West 51st Street Apt. 4c
151 East 81st Street Apt. 5f
269 West 90th Street Apt. 2a
160 East 39th Street Apt. 3
209 West 104th St. Apt. 4e
127 East 30th Street Apt. 1b
402 West 20th Street Apt. 3
243 West 99th Apt. 6b
340 East 93rd St. Apt. 27j
455 East 86th Street Apt. 14e
2300 Fredrick Douglas Blvd Apt. 8g
372 Central Park West Apt. 16n
166 Suffolk St. Apt. 2c
141 East 55th Street Apt. 12f
155 East 34th Street Apt. 5c
360 East 88th Street Apt. 5c
400 Central Park West Apt. 6v
355 South End Ave Apt. 3k
145 West 67th Street Apt. 48e
404 East 79th Street Apt. 27a
372 Central Park West Apt. 9k
5 Tudor City Place Apt. 1030
303 East 83rd Street Apt. 27f
128 East 91st Street Apt. 1d
44 West 70th Street Apt. 2r
53 Irving Pl. Apt. 1c
153 West 74th Street Apt. 3b
175 Ludlow Street Apt.11
808 Columbus Avenue Apt. Ph1j
69 Fifth Avenue Apt. 2k
126 West 96th St. Apt. 4d
301 East 79th Street Apt. Ph37f
301 East 79th St Apt. 31d
301 East 79th Street Apt. 11r
304 East 73rd St. Apt. 5e
304 East 63rd Street Apt. 4k
175 Bleecker Street Apt.17
205 North 9th Street Apt. 5g
148 East 48th Street Apt. 11a
173 Bleecker Street Apt. 7
250 East 73rd Street Apt. 15f
145 West 67th Street Apt. 48e
211 West 106th Street Apt. 17d
1623 Third Ave Apt. 42c
211 West 56th Street Apt. 29j
77 West 24th Street Apt. 9g
162 Orchard St. Apt. 3a
200 West 108th Street Apt. 3g
247 East 28th Street Apt. 11b
75 Riverside Drive Apt. 2a
179 West 79th Street Apt. 2a
193 East 4th Street Apt. 5r
280 Riverside Drive Apt. Gb
215 East 80th Street Apt. 11m
237 East 10th Street Apt. 4d
45 Tudor City Place Apt. 1308
100 West 93rd Street Apt. 26h
130 West 15th Street Apt. 14c
237 East 10th Street Apt. 6c
295 Park Ave South Apt. 4b
125 West 31st Street Apt. 53a
220 East 60th Street Apt. 14g
242 East 10th Street Apt. 30
320 East 46th Street Apt. 28a
205 West 88th Street Apt. 5b
250 East 63rd Street Apt. 910
305 East 81st Street Apt. 2e
360 East 88th Street Apt. 7e
453 Hudson St. Apt. 33
175 West 90th St. Apt. 16h
40 West 55th St. Apt. 9a
157 West 85th St. Apt. 5b
360 East 88th St. 23f
985 5th Avenue Apt. 5a
301 East 79th Street 37d
349 East 49th St 6t
301 East 79th Street 23f
301 East 79th Street Apartment 23f
307 East 77th St 3e
456 West 23rd Street Apartment 4f
110 East 13th Street Apartment 2b
228 East 84rd Street Apartment 3d
66 Madison Avenue Apartment 11g
365 West End Avenue Apartment 1304
372 Central Park West Apartment 10w
110 West 86th Street Apartment 8d
200 West 72nd Street Apartment 12f
215 East 68th Street Apartment 28e
800 5th Avenue Apartment 8f
155 East 85th Street Apartment 43
229 West 60th Street Apartment 11s
320 West 38th Street Apartment 1802
304 West 75th Street Apartment 7f
306 East 83rd Street Apartment 4a
21 West 86th Street Apartment 508
210 West 70th Street Apartment 905
244 West 94th Street Apartment 10e
350 East 67th Street Apartment 12
245 East 40th Street Apartment 34f
150 East 77th Street Apartment 16a
352 East 91st Street Apartment 6
49 West 90th Street Apartment 2a
239 Third Avenue Apartment 18
303 East 10th Street Apartment 9
446 East 86th Street Apartment 9b
216 East 90th Street Apartment 1rw
334 East 83th Street Apartment 5w
44 West 70th Street Apartment 4r
534 East 6th Street Apartment 8
161 East 96th Street Apartment 2a
454 East 84th Street Apartment 2s
947 Columbus Avenue Apartment 1a
1278 1st Avenue Apartment 23
135 East 54th Street Apartment 11h
345 East 80th Street Apartment 22l
137 West 95th Street Apartment 2f
333 East 79th Street Apartment 15v
649 East 9th Street Apartment 4b
845 Riverside Drive Apartment 27
126 West 74th Street Apartment 2a
175 West 90th Street Apartment 14g
265 West 81st Street Apartment 4a
61 Clinton Street Apartment 6
75 West End Avenue Apartment P34c
137 E 29th Street Apartment 4b
161 East 88th Street Apartment 4c
227 Mott Street Apartment 11
331 West 76th Street Apartment 3a
105 West 29th Street Apartment 48d
239 East 80th Street Apartment 4b
444 East 81st Street Apartment 15
1603 Second Avenue Apartment 3n
115 East 92nd Street Apartment 2e
115 East 92nd Street Apartment 9e
305 East 83rd Street Apartment 4d
517 East 77th Street Apartment 4d
522 East 85th Street Apartment 3e
957 Park Avenue Apartment 4e
505 East 88th Street Apartment 2b
505 East 88th Street Apartment 2g
505 East 88th Street Apartment 5h
510 East 85th Street Apartment 2b
421 East 81st Street Apartment 5re
423 East 81th Street Apartment 1fw
49 East 74th Street Apartment 4a
50 West 72nd Street Apartment 311
345 East 65th Street Apartment 4d
355 South End Avenue Apartment 15h
37-39 Clinton Street Apartment 1a
336 East 78th Street Apartment 2
337 East 78th Street Apartment 3
321 East 69th Street Apartment 3e
321 West 78th Street Apartment 10b
323 East 90th Street Apartment 2e
328 East 89th Street Apartment 3c
335 East 85th Street Apartment 2b
30 West 63rd Street Apartment 11u
30 West 63rd Street Apartment 6s
300 East 89th Street Apartment 4c
304 East 115th Street Apartment 2a
319 East 90th Street Apartment 5a
30 West 63rd Street Apartment 15b
30 Park Avenue Apartment 14j
30 West 63rd Street Apartment 12r
30 West 63rd Street Apartment 31l
275 Greenwich Street Apartment 3b
27 West 96th Street Apartment 6a
235 West 48th Street Apartment 32j
235 West 48th Street Apartment 37j
242 East 77th Street Apartment 6rw
242 East 79th Street Apartment 3d
253 East 78th Street Apartment 9
215 East 88th Street Apartment 5c
225 East 86th Street Apartment 903
1834 2nd Avenue Apartment 2f
21 West 86th Street Apartment 1405
1834 2nd Avenue Apartment 2f
180 East 88th Street Apartment 9
1619 3rd Avenue Apartment 14f
165 East 89th Street Apartment K
167 Allen Street Apartment 4a
1684 Third Avenue Apartment 21d
151 East 81st Street Apartment 5a
155 East 34th Street Apartment 19h
108 East 96th Street Apartment 4d
128 East 91st Street Apartment 1e
132 East 24th Street Apartment 3r
185 East 85th Street Apartment 15 A
412 East 64th Street Apartment 4b
125 West 81st Street Apartment 1a
1448 First Avenue Apartment 2
301 East 91st Street Apartment 3n
336 East 71st Street Apartment 4e
336 East 71st Street Apartment 5c
128 West 93rd Street Apartment 8e
208 East 84th Street Apartment 3d
306 East 71st Street Apartment 4b
323 East 75th Street Apartment 4a
340 East 90th Street Apartment 3g
155 East 34th Street Apartment 4u
250 East 39th Street Apartment 4f
333 East 46th Street Apartment 14f
355 East 86th Street Apartment 2j
514 East 83rd Street Apartment 2e
159 East 30th Street Apartment 6-A
217 East 25th Street Apartment 3-B
229 East 35th Street Apartment 6a
465 Columbus Avenue Apartment 10-A
305 Lexington Avenue Apartment 2c
313 East 95th Street Apartment 18
326 East 65th Street Apartment 16
332 East 84th Street Apartment 4e
483 Columbus Avenue Apartment 2-D
220 East 57th Street Apartment 5k
334 East 90th Street Apartment 2-A
301 East 91st Street Apartment 4-S
330 East 70th Street Apartment 6b
429 East 65th Street Apartment 18
447 East 78th Street Apartment 3-B
1685 Third Avenue Apartment 2d
108 East 96th Street Apartment 2c
514 East 82 St. Apartment 1-E
That Pesky 40X-the-Rent Requirement
In certain cities (especially New York), property management companies require you to have an annual salary of 40 times the rent in order to be approved as a new tenant. That may be way more than your pay stub will ever show. In fact, a 2017 StreetEasy study found that...
Wednesday, September 26, 2018
Agent Profile