Agent Profile
Susan Holman
Licensed Associate Real Estate Broker
Village Office
Tel: (212) 381-4286
Cell: (917) 748-4449

Languages Spoken: FRENCH, ENGLISH
Associate Broker Susan Holman has been in residential real estate sales and rentals since 2000. A top producer at her previous firms, she joined Halstead in the winter of 2018 to capitalize on its extensive reach, marketing platform, technological resources, and optimize the level of service to her clients.
While Susan specializes in the sale of co-ops, condos and townhouses on the Upper East and Upper West Sides of Manhattan, her vast list of sales on the buy and sale side spans all of Manhattan and Brooklyn.
Susan is a Certified Buyers Representative who takes the needs of her buyers and sellers to heart; she is also a Certified Trainer with The American Board of NLP, with a proven track record of success as a business coach, sales trainer and team builder. When you partner work with Susan to find or sell your next home, you will gain from her keen ability to guide as well as strong market knowledge, tenacious approach, and solid professional connections that assure seamless deals.
An attentive listener, Susan is able to discern a client's needs and readiness to buy and sell, then makes recommendations based on their personal goals. For clients who are more visually-oriented, she may show them many different homes and even discuss the potential of some hidden gems.
A native New Yorker born in Brooklyn, Susan attended New York University where she received her Master's Degree in International Affairs. She has lived in Gramercy Park and Murray Hill, and is a property investor. Susan is passionate about Manhattan's architecture, history and culture. She speaks fluent French, loves traveling and learning new languages. Susan is also a fitness enthusiast, and an active participant in local charity groups.
Halstead Manhattan, LLC
319 East 50th Street #10C
Midtown East, NYC
1 of 5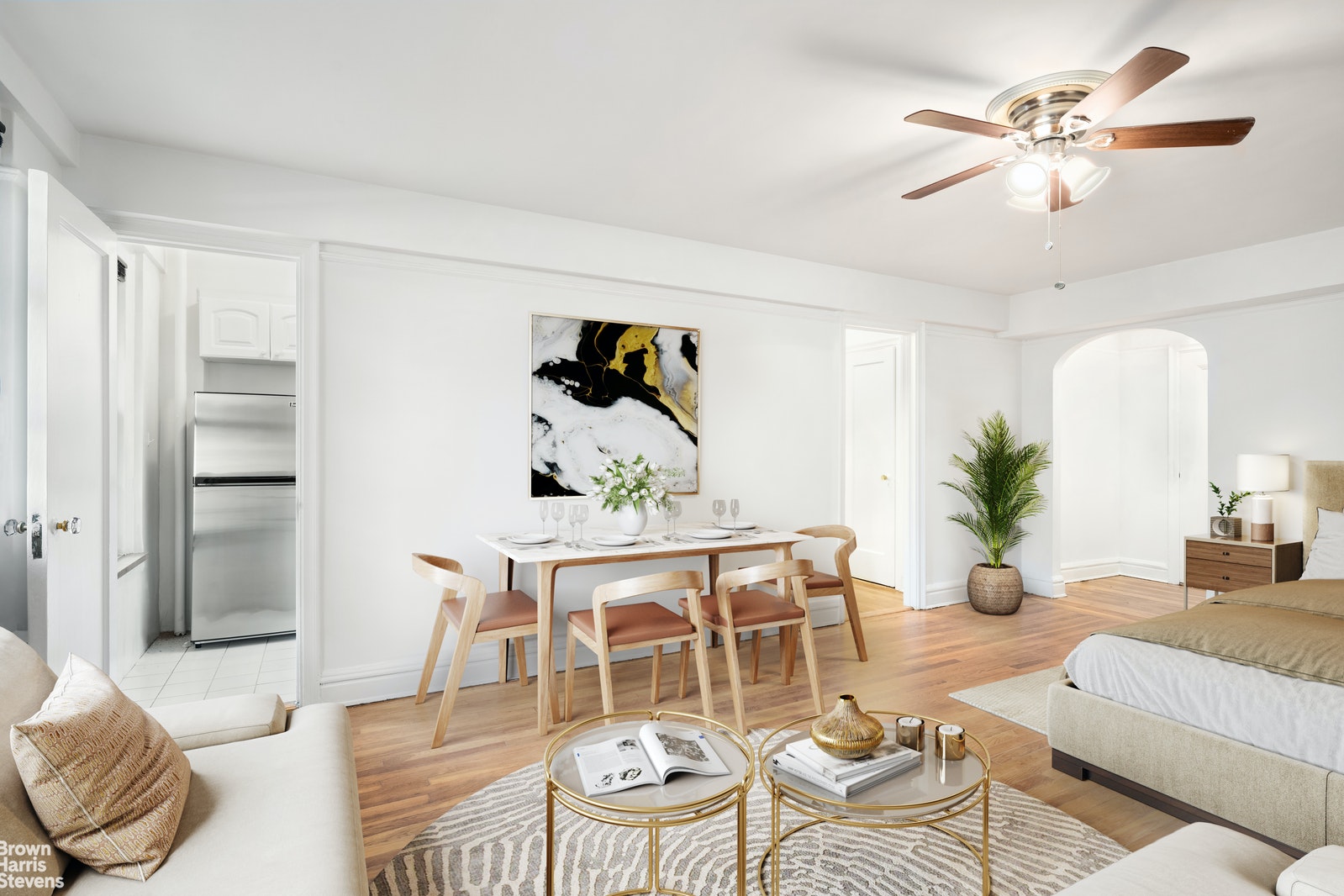 $349,000
The following are selected closed transactions in which Susan Holman represented the buyer, the seller, or both:
COOPERATIVES AND CONDOMINIUMS
85 Barrow Street, Apt 6-O
210 Sixth Avenue, Apt 5f, New York, NY
88 Wither Street, Brooklyn NY, Apt 3a
200 Chambers Street, Apt 17f
7 East 3rd Street, Apt.14
201 East 15th Street, Apt. 4j
302 Second Avenue Apt 7f, Park Slope , Brooklyn
137 East 36th Street Apt 2a
2250 Broadway, Apt. 4d
969 Park Avenue, Apt. 2bc
425 Fifth Avenue, Apt. B
588 West End Avenue, Apt. 4b
588 West End Avenue, Apt. 7b
588 West End Avenue, Apt.11D
969 Park Avenue, Apt. 6c
969 Park Avenue, Apt. 9c
343 East 74th Street, Ph 4-D
410 East 50th Street, Apt. 4e
410 East 57th Street, Apt. 16e
410 East 57th Street, Apt. 4b
410 East 57th Street, Apt. 6d
420 East 72nd Street, Apt. 2g
300 East 74th Street, Apt. 3b
300 East 74th Street, Apt. 5e
300 East 74th Street, Pha
330 East 49th Street, Apt. 5l
333 East 69th Street, Apt. 6e
343 East 74th Street, Apt. 12f
343 East 74th Street, PH-3D
300 East 74th Street, Apt. 24d
315 East 65th Street, Apt 9d
315 East 65th Street, Apt. 12e
315 East 65th Street, Apt. 3b
315 East 65th Street, Apt. 4l
315 East 65th Street, Apt. 5g
315 East 65th Street, Phe
315 East 65th Street, Apt. 2g
319 East 50th Street, Apt. 10l
319 East 50th Street, Apt. 12g
319 East 50th Street, Apt. 12jh
319 East 50th Street, Apt. 6d
319 East 50th Street, Apt. 8e
319 East 50th Street, Apt. 8l
225 Central Park West, Apt. 1018a
225 Central Park West, Apt. 107
225 Central Park West, Apt. 1212
225 Central Park West, Apt. 1611
225 Central Park West, Apt. 514
319 East 50th Street, Apt. 5e
180 West End Avenue, Apt. 17g
180 West End Avenue, Apt. 9p
200 East 36th Street, Apt.15C
200 East 36th Street, Apt.10J
200 East 36th Street, Apt.17F
200 East 36th Street, Apts. 2j
150 West End Avenue, Apt. 18s
150 West End Avenue, Apt. 24s
150 West End Avenue, Apt. 2d
150 West End Avenue, Apt. 3b
150 West End Avenue, Apt. 9b
153 East 57th Street, Apt.10A
178 East 80th Street, Apt. 25f
137 East 36th Street, Apt. 16a
137 East 36th Street, Apt. 22h
137 East 36th Street, Apt. 23c
137 East 36th Street, Apt. 7d
140 West End Avenue, Apt. 22f
140 West End Avenue, Apt. 30k
137 East 36th Street, Apt. 4b
137 East 36th Street, Apt. 4c
155 East 38th Street, Apt. 12k
155 East 38th Street, Apt. 3d
155 East 38th Street, Apt. 5e
155 East 38th Street, Apt.12J
155 East 38th Street, Apt. 2h
155 East 38th Street, Apt. 7b
155 East 38th Street, Apt.16B
155 East 38th Street, Apt.17A
155 East 38th Street, Apt.8C
200 East 32nd Street -Apt. 15e
30-85 Vernon Boulevard, Long Island City, Apt. 5n
30-85 Vernon Boulevard, Long Island City, Apt. 2h
30-85 Vernon Boulevard, Long Island City, Apt. 2m
60 Broadway, Apt. 3l -Brooklyn "The Gretsch"
60 Broadway, Apt. 5l -Brooklyn "The Gretsch"
315 East 65th Street, 8k
34-21 78th Street, 3g
319 East 50th Street, 12j
319 East 50th Street, 5d
319 East 50th Street, 8c
319 East 50th Street, 6c
300 East 74th Street, 8d
319 East 50th Street, 4f
319 East 50th Street, 10d
180 West End Avenue, 10j
588 West End Avenue, 8d
150 West End Avenue, 14p
400 East 85th Street, 2h
137 East 36th Street, 21e
140 West End Avenue, 30d
155 East 38th Street, 4f
180 West End Avenue, 16b
300 East 71st Street, 15l
150 West End Avenue, 3a
170 West End Avenue, 24j
212 East 47th Street, 14g
140 West End Avenue, 20h
255 Central Park West, 308
RENTALS
155 East 38th Street, Apt. 17j
140 East 56th Street, Apt.2D
330 East 38th Street
155 East 38th Street
225 Central Park West, 618a
300 East 74th Street, 22d
155 East 38th Street, 16h
333 East 75th Street, 4c
107 East 82nd Street, 1b
315 East 65th Street, 1f
330 East 38th Street, 14h
310 East 44th Street, 1001
425 Fifth Avenue, 26c
155 East 38th Street, 15e
157 East 32nd Street, 22a
372 Central Park West, 10m
155 East 38th Street, 12e
155 East 38th Street, 19b
200 East 32nd Street, 32c
200 East 32nd Street, 6a
425 Fifth Avenue, 40d
200 East 32nd Street, 31c
343 East 74th Street, 15a
425 Fifth Avenue, 41d
200 East 32nd Street, 18b
371 Central Park West, 14d
Agent Profile